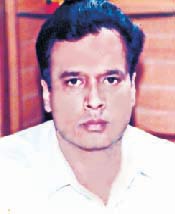 Chairman's Message
It gives me immense pleasure to introduce our business units to you under "Konark Group ". The first luminaries manufacturing unit of the group was established 35 Years back and over the years it has progressed to be one of the leading factories in India for the manufacture of HID Luminaries, specializing in road lighting and outdoor luminaries & accessories. It is our belief that good growth can be achieved only through proven quality system. Konark 's journey towards planned quality systems began in 2004 for lighting business initiating actions to obtain ISO Certification. All group's businesses are either already certified or are in the process of obtaining ISO 9001/2000 Certification. In our Herbal division we have proved ourselves as one of the top manufacturers and exporters in the world of Curcumin (Turmeric Extract). Our research and R & D sector is always in the process of developing new products to cater to the unique requirement of the industry serving mankind. Our herbal extracts have been used by many domestic and international companies in the production of cosmetic complexes, pharma, food industry, etc.
Our state-of-the-art laboratory which supports the research and development of all our products has the best of the modern technology and instrument. This gives our customer all the value of receiving the products on time and pre – tested to assure the quality we offer.
Today we are treating 3.5 crore liters of water every day all over india by the support of water and waste water treatment division. We have been successful in treating the hazardous effluents of the industry through the environment friendly process know as bioremediation, taking care of our oceans which is polluted to a greater extent by the chemically effluents disposed by many manufacturing companies.
I am sure you will be our next Business associate as you tour through our website, as we are one of the few companies who offer all your business solution under one roof.
Thank you for showing your interest.
Rakesh S. Gupta
CMD
Konark Group