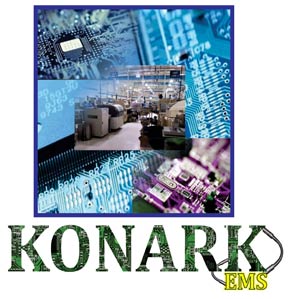 The "Konark Group " the group is supported by professional and experience team of employees. Recently Konark Electronic Products set up complete Electronics Assembly unit in Kala-amb Himachal Pradesh having the total area of 14000 sq. ft build up, apart from around 50000 sq ft open space available for expansion.
Why Konark Products EMS facility?
Complete professional and experience team to give the timely and quality delivery.
The complete product can be produce, since the entire infrastructure under one roof.
Well equipped Lab can test complete product as per IEC standard
Complete product can made in house so vendor dependability will be less.
Konark Products factory is in H.P. and we have the tax benefits which we can always pass to our customer.
The complete Electronics assembly set up consist of SMD assembly line, Discreet PCB assembly line and LED fitting line having following Manufacturing and testing equipments :-
Semi automatic screen printer
Pick and Place Machine
Reflow oven
Visual inspection stage
Discreet conveyor line
Wave soldering machine
PCB assembly testing station
H.V. tester
Power Analyzer
VAW, PF meters
Testing Panels for complete MC PCB testing
Testing Panel for complete LED driver testing
Testing Panel for complete Luminary testing
Soaking Racks with timer for soaking of luminary
Complete product testing upto IP 66 level with IEC Standards.
With this facility we can make all types of complete PCB assembly, wittesting as per the customer requirement.